I was reading on a blog the other day
(and I wish I could remember which blog)

but she was mod podging
a picture frame.
(which I love do)

When she puts her paper on the frame she first puts her paper in water..... so I had to try it......
I cut out some flowers with my cricut, I started with a 4" flower and worked my way down to a 1" flower ending up with 8 flowers all together.
....Then you spray your flowers with water a scrunch them up. I only let mine sit for a minute and then I unfold them
and stack them on top of each other.
take a brad and secure the layered flowers together
...and wa-la!! you have a beautiful layered flower!


Back to the mod podge frame. 1. I painted the inside of the picture frame pink 2. i traced the frame onto paper and cut it out 3. then I mod podged the top of the frame

(sorry, I was bad

about taking pictures of this part)

4. and then I took my paper and ran it under water and placed it on top of the frame, while its still wet I added one more layer of mod podge.
Linking up to: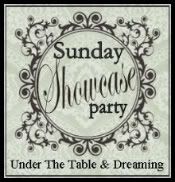 ">
href="http://iheartnaptime.blogspot.com">
src="http://i339.photobucket.com/albums/n454/jamielynnye/blog_Page_01-2.jpg"
height="125"/>